It seems that we are gradually overcoming the crisis that hit Spain in the last decade. I always thought that when it comes to difficult situations it is hard going through them but normally it is also happen when the greatest progress arises. Following the crisis, a new consumption model was brought to Spain and the rest of the world: low cost.
As a consumer, by "low cost" I mean removing everything superfluous, everything that you do not value when buying and at the same time improving all the processes and price setting in order to be much more efficient in offering improvements to your possible customers.
People do not look for something worse at a lower price but they want the same quality at a cheaper price. Hence, many companies emerged and have been growing in the recent years.
"I'm sure that I'm not the only one who thought while travelling on a half-empty plane for many years that if they lowered the price they would have fill it because people would love to travel"
I enjoyed counting the seats rows, the raw seats number and empty seats. Then I did the math by calculating that instead of just 30 people on that plane there could have been 150 people, if the company would have sold the tickets at 70% discount which would have filled the plane and brought an increase in money earned. I didn't care that the company earned more money but that travelling would be a cheaper experience because I could not afford it at most times. I knew that it could have been possible so I was angry because they didn't put in practice something so obvious. Meanwhile, the flight did cost me 4 times more.
I believe that the philosophy of the low cost companies was to turn a medium / high standard of quality to a much lower price and they succeeded.
My reflection now is: is this it? Will it end here? I don't think so. Finally, nobody wants to pay more for things they do not value. If the crisis is diminishing and there is an increase in the income: will people still be willing to take another step? Will they conform to average or even higher quality? Will any company arise and foresee this opportunity? Will midlux be born?
Currently, when I am on a plane, flights are usually full except the first class seats. Many years ago, people would have loved to go away for a weekend to Amsterdam (for example) but it was too expensive. Nowadays you are able to do it and I'm sure there are a lot of people who would like to fly to New York in first class instead of economy class but they cannot or want to pay the amount. Now there is the possibility to obtain an upgrade from the economic to first class at the last moment so I think there are ways on doing much more just as it happened some years ago.
What happens if the philosophy of maximum efficiency is applied to luxury? What would be the case if there were airline companies who would be able to double the space on their planes and you could go to New York by sleeping comfortably in the first class section for only 800 euro?
What would happen if MidLux were born?
It will be an absolute win. I think that a glass of white wine, special attention and premium food do not cost 2000€. Eventually people desire to be more comfortable. What if this new philosophy would be applied by the companies in order to offer a premium quality and today's unattainable luxury had an average price?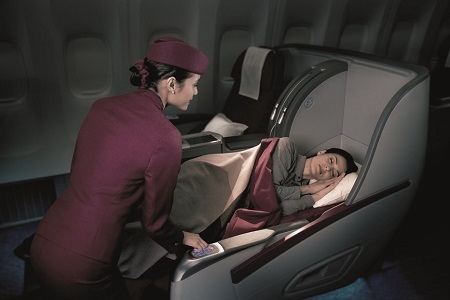 This is what I mean by Midlux and why it would be a success. Just like today you can spend a weekend in Paris or Amsterdam and also travel in first class, stay in a design hotel, have dinner in a fancy restaurant without spending the budget you would have spent in the last three months or years. This does not mean that the current concept of luxury is going to disappear. Actually, according to its definition, luxury can be reached by very few people so I think this needs to take a step forward in order to make the first class become a super class characterized by a double room with a private bathroom instead of a fluffy spacious reclining seat. Of course, it would also include a glass of champagne with strawberries.
Y aquí es donde está la oportunidad y el reto: poner el lujo al alcance de muchos, el midlux. Ya nos hemos acostumbrado al lowcost y queremos más. Mucho más. Es hora de darle la bienvenida al MidLux. Ojalá sea dentro de poco, porque los viajes en turista me matan.
I think that low cost is going to become normal and those who cannot offer a half-high quality at a lower price will not survive because people are always going to desire more by looking for luxury at an unbelievable price according to the current standards. If things that did cost 10 today are valued at 3 why are things which used to cost 30 still cost 30?
Here are the opportunities and challenge which make luxury as something affordable for many people; this is why it is called Midlux. We got used to low cost services and now we want much more so it is time to welcome the Midlux concept. I hope it will happen soon because travelling in tourist class is killing me.